Impressive results with Interactive Sales Suite created for CALA Homes The Crescent
Seeing really is believing when it comes to understanding new build developments. As we know, the more buyers are able to visualise the end result, the stronger their emotional connection is and the more confident they are buying a home off-plan.
Pixel's customised HomeSelector™ for The Crescent at Donaldson's by CALA Homes (East) has now accelerated off-plan sales to in excess of £7.7m, with 8 apartments including a penthouse now sold in the flagship development.
A highly anticipated luxury development, The Crescent comprises 1, 2 and 3 bedroom high specification apartments in the heart of Edinburgh's iconic New Town. With current prices in the first phase release between £950,000 and £1,400,000, these high investment homes require a heightened buyer experience. Floor plans and brochures alone are no longer adequate and digital tools must be integrated to enhance the overall marketing mix.  In fact, when it comes to ensuring the competitive edge, no matter the target market, particularly in cities such as London and Edinburgh where large volumes of newbuild residential are coming online, the need to differentiate and provide an engaging buyer experience will continue to increase – online and in the sales suite.
This is where we come in. CALA's sales suite for The Crescent includes a suite of interactive digital elements such as development and interior Virtual Visits, Availability Function with 3D Content Gallery and filter features and aerial view Interactive Map. Each of these elements combined have enabled potential buyers to explore the development virtually and see exactly what is on offer, while giving them the visual cues they need to help build a perception of the lifestyle afforded by the development were they to live there.
Front of mind for us is always to leave visitors to the suite fully informed, engaged and inspired with a clear vision of the completed build and what their new residence will look like.
Let's take a closer look at how the individual elements enhance the sales suite experience.
Interactive Map
Highlighting the unrivalled location of The Crescent with aerial views and showing the points of interest, the large-scale interactive map can be expanded using the touch screen menu across a range of categories. This is being developed even further for the show apartment opening later this year. It shows details of the surrounding area and amenities including transport links, entertainment, recreation, education and health.
Virtual Visit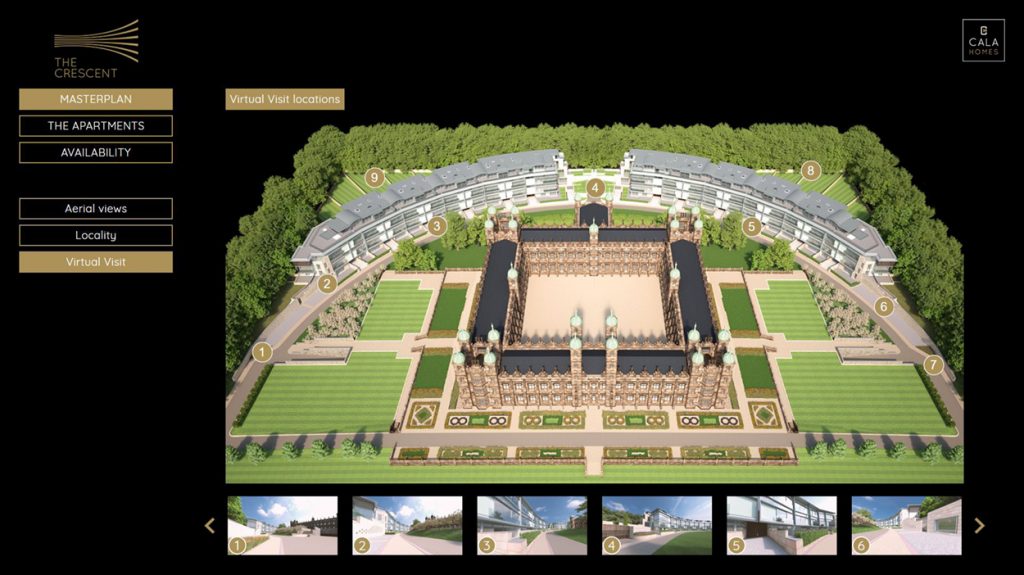 Many months ahead of launching the show apartment, potential buyers are virtually able to visit the site. Moving easily between virtual hotspots, they can explore the grounds before progressing on to view the apartment interiors in depth, helping to strengthen the emotional connection in CALA's customer journey.
Availability Function and 3D Content Gallery
By hovering over each apartment on screen, visitors can search and filter by their chosen criteria – size, price, penthouse, garden etc. Once on their chosen apartment, they can delve into the 3D content-rich gallery of visuals and even see the views out of the window; particularly valuable given the dual aspects of these spacious apartments.
Having compared their apartments or made their shortlist and saved their favourites – another key feature of the HomeSelector™ – the emotional connection becomes even stronger as they imagine what it would be like to live at The Crescent. And with the development layout and interior space fresh in their minds after their virtual walk-through, when they put on the Virtual Reality headset and immerse themselves fully in The Crescent, it's already coherent and reassuringly recognisable.
Working with CALA Homes (East) on this iconic development and helping to communicate the ambitious architectural design has been a fantastic collaborative experience. It's a testament to the power of 3D visualisation and the value in doing more digitally. If you would like to see a demo of the Sales Suite HomeSelector™, please don't hesitate to get in touch.
Click here to find out more about our interactive HomeSelector™ and how it can help to accelerate your sales off-plan.
Found this interesting? Sign-up to our newsletter and get more of our informative property related content straight to your inbox.