Are you meeting the homebuyer's expectations and bridging the gap?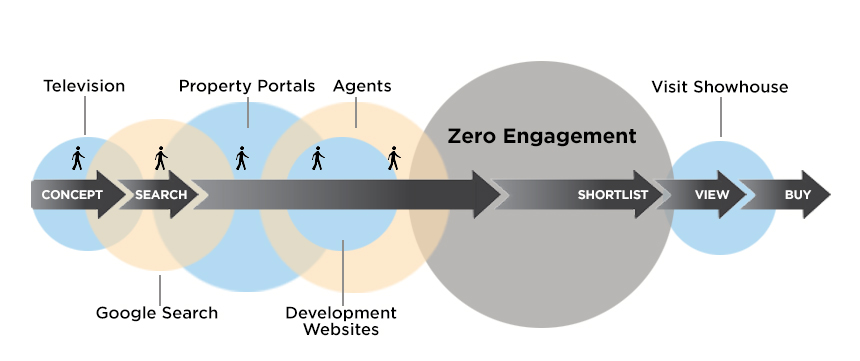 As property marketers, we need to appreciate that we are not our target audience; we are involved in the property buying process every day, we are experienced in knowing what to look for and we understand what our property developments have to offer. By contrast, our target audience will be involved in what is probably their biggest purchasing decision only a couple of times in their lives.
However, like us, the target audience are consumers who are familiar with the changing face of consumerism. Their buying experience has changed dramatically in recent years; they 'build' their cars online, they can see their view of the stage before choosing concert tickets, they can virtually 'try on' glasses before they buy. The reality is that in many cases the consumer is now better informed than the sales person when they do eventually arrive at the point of sale.
Brands are using technology to communicate their products and services in a highly engaging and personalised manner and this has changed the expectations of the buying public. They want to be involved in a way that is highly personal, informative and engaging – and they want to do it when it suits them.
We recently examined the buying experience at several London developments and our findings confirm that the property sector is lagging behind in catering to today's modern home buyer. Whilst we did see many positives in the way the brand, developments and design were promoted, there was a consistent lack of engagement and accessibility to the properties that were of specific interest.
2D floor plans have always been challenging for many house buyers to understand, yet they are still widely used in an age when 3D graphics are more prevalent than ever. Sales office opening times don't cater for the 'time poor' buyer, but technology can easily provide the opportunity for buyers browse the development, and specific properties, at their own pace and at a time that suits them.
Crucially, whilst this online engagement is satisfying the expectations of the buyer, it is also gathering valuable data for the developer about which particular properties a buyer is interested in, and which details are important to them.
Consumers want features that will allow them to explore a property before it's even built. Tools such as the Kitchen Selector let home buyers design the kitchen of their dreams and see exactly how it will look in their home, even being able to upgrade their options to get precisely what they want. Exploring a property they have helped to design internally gives the buyer the visual and emotional cues they need to help them imagine living there, and this forms a vital part of the buyer's journey.
Remarkably, this increased level of engagement not only improves the buyer experience, it can, and should, be used to by the developer to make informed decisions about future developments.
Data about consumer buying preferences can be gathered – for example, the most popular house types, why specific plots are popular and sought after features – developers can then use this information at the design stage and build what people want based on these trends. So, it's not only hugely beneficial to the consumer but helps the entire property development process. As a result, houses sell quicker, which is positive news for developers andinvestors.
Technology is disrupting every industry and the property sector is no exception. If harnessed in the right way, this technology can not only be used to streamline the entire property buying process but also help to meet growing consumer expectations, ultimately resulting in more sales. It's time to ask yourself if your property marketing is meeting today's consumer expectations?
Found this interesting? Sign-up to our newsletter and get more of our informative property related content straight to your inbox.